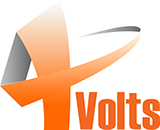 < Back to Home
This website is a great opportunity for everyone to give a little contribution to the research against Cancer.
Like many others, the 4Volts team has been personally touched by the loss of friends and family because of Cancer.
By subscribing to the World Community Grid you will help the research with the resources of your computer that you are not using. It's free and easy!
Find out more here!
This is the personal website of one of our Industrial Designers.
Erika's skills in Communication and Web Design add a great value to our team. A product can not be considered complete without good Marketing and Interface.